September 1, 2015 – 10:06 am
What's wrong with shipping container buildings? Nothing, if they're used for the right purpose. For a temporary facility, where an owner desires the shipping container aesthetic, they can be a good fit (look, I've even done a container project!). For sites where on-site construction is not feasible or desirable, fitting a container out in the factory can be a sensible option, even though you'll still have to do things like pour foundations on site. It probably won't save you any money over conventional construction (and very well might cost more), but it can solve some other problems.
The place where containers really don't make any sense is housing. I know you've seen all the proposals, often done with an humanitarian angle (building slum housing, housing for refugees etc) that promise a factory-built "solution" to the housing "problem" but often positioned as a luxury product as well.
This post on ArchDaily got me started on a Twitter rant about the unsuitability of containers for these projects, and the larger trend of online design publications not bothering to ask any questions and run these press releases as "news". Not to mention the architects themselves presenting this idea as a feasible solution to a major problem.
This is the project that got me started, a recent competition winner by GA Designs, which proposes it as a solution to slum housing conditions in India. There are a number of glaring problems with this idea (some of which Llyod Alter takes on in a post on Treehugger) :
This is a particularly colorful version from OVA Studio (this is for a hotel):
Another slum housing "solution" reported in Dezeen:
A short list of why shipping containers are not a "solution" for mass housing:
Housing is usually not a technology problem. All parts of the world have vernacular housing, and it usually works quite well for the local climate. There are certainly places with material shortages, or situations where factory built housing might be appropriate- especially when an area is recovering from a disaster. In this case prefab buildings would make sense- but doing them in containers does not.

If you are going through the trouble of building in factory, why not build to a dimension that is appropriate for human habitation? With only 7' clear (2.1 m) inside a built-out container, you are left with the building code minimum room width as your typical condition. It's hardly an ideal width, and it is not difficult to ship wider modular units: modular home builders do it all the time.

Insulation. All surfaces of the container need to be insulated, and this means either building a new set of walls on the inside or outside of the container. If walls are furred out on the interior, this is convenient for plumbing and electrical lines but it narrows the usable space of an already small box. It also allows for a huge amount of thermal bridging unless the floor is built up with insulation on the inside (which brings up a host of other problems).  If the exterior is insulated it no longer looks like a container, and then you have to pay to clad the entire thing over the insulation. In either scenario you're duplicating all of the walls that you started with. Improper insulation will result in heavy condensation on the inside of the metal exterior walls.

Structure. You've seen the proposals with cantilevers everywhere. Containers stacked like Lego building blocks, or with one layer perpendicular to the next. Architects love stuff like this, just like they throw around usually misleading/meaningless phrases like "kit of parts." Guess what- the second you don't stack the containers on their corners, the structure that is built into the containers needs to be duplicated with heavy steel reinforcing. The rails at the top and the roof of the container are not structural at all (the roof of a container is light gauge steel, and will dent easily if you step on it). If you cut openings in the container walls, the entire structure starts to deflect and needs to be reinforced because the corrugated sides act like the flange of beam and once big pieces are removed, the beam stops working. All of this steel reinforcing is very expensive, and it's the only way you can build a "double-wide."

Stacking. One recent competition boasted that because containers can be stacked 9-high, concrete floors could be provided every 9th floor with stacks of containers in between. That load still needs to travel down through the building, and still then requires columns. Those floors every ninth floor need to hold the entire weight of 9-stories of building above, which makes it dubious that you'd really be saving much on structure. The foundation also needs to be built similarly to a "regular" site-built building, and this is one of the most expensive pieces. Stacking also requires a large crane and an area for staging the prefabricated container modules, which can be hard to arrange on a dense urban infill site.

Utilities and Mechanical Systems. In a large building, you'll still need a lot of space to run utilities. Because of the problems with insulation mentioned above, you will need to install a very robust HVAC system to heat and cool the building (that Mumbai tower shown above would literally be a deathtrap without cooling). You will have a hard time taking advantage of passive strategies like thermal mass if you maintain the container aesthetic. You'll also end up with low ceilings, as even high cube containers are only 9-'6" (2.9 m) in overall exterior height, so any ductwork or utilities start cutting in to headroom.

Recycling. Part of the container narrative is that it's "green" because we have a surplus of containers that can be reused. This is somewhat true, but in reality many existing container projects use brand new containers from China (which are still very cheap to buy). Used containers need to be thoroughly cleaned because there is a risk they may have been used to transport something toxic in the past.
What you get with a container is cheap structure, if you can use the box-basically as-is. As soon as you remove anything (including the ends) you need to hire welders and buy steel. Architecture is more than structure though and structure on its own is not particularly expensive- especially when you are building a space as small as a shipping container, so the savings here are minimal. Relatively untrained people can build a room that size of simple wood framing in a day without needing to rent a crane or learning how to weld for about the same cost (or less) than buying a used container.
July 23, 2015 – 4:29 pm
Perhaps you have read Gabe Metcalf's piece for CityLab titled 'What's the Matter With San Francisco? The city's devastating affordability crisis has an unlikely villain—its famed progressive politics.' It goes into depth about how policies in San Francisco have lead to the current situation where one bedroom apartments are renting for $82,000 per year. Yes, policies in San Francisco and the surrounding area have lead to very high housing prices. Who is to blame? I have a hard time blaming Progressives (whatever that means these days).
I would argue that in the Bay Area, wealthy single family homeowners have had FAR more sway on maintaining exclusionary zoning and blocking new housing than San Francisco's progressive politicians. This piece dramatically understates the role of other towns and cities in the region, many of which are located on transit lines, to provide increased density. Yes, it's not NYC, but BART and Caltrain are better than what most of the country has to work with. Many of the stations on the peninsula are surrounded by one and two story buildings. Even within the City of San Francisco, the majority of residential land is zoned for single family homes. Look at the map my firm worked on with CCA's Urban Works Agency for a show at SPUR a few months ago, the large light gray areas that dominate the southern and western portion of the city are essentially suburban: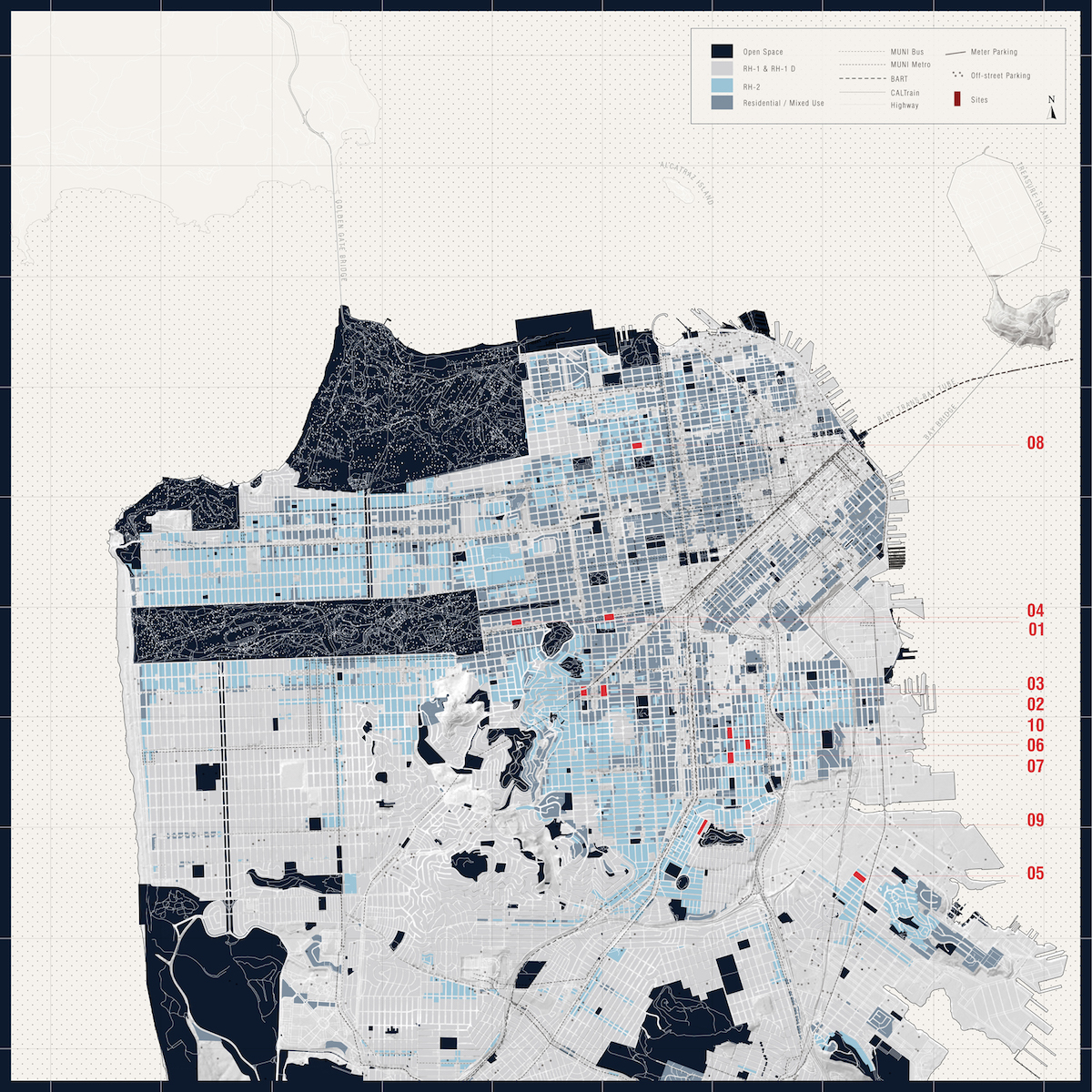 Chris Daly (arguably one of the most "Progressive" politicians San Francisco has had in recent years) helped pave the way for the massive number of new units in SOMA by brokering a community impact deal in 2005, and these units are the majority of the housing that has been created in the last 10 years. The Eastern Neighborhoods Plan, which upzoned large areas on the east side of the City, was approved by a Progressive-majority Board of Supervisors. It should also be noted that most of the areas that have been upzoned are less wealthy and more dominated by renters than the areas that are primarily single family.
The line that keeps getting repeated that we should have been building 5,000 units a year is absurd taking into account the realities of development. The math makes sense in the simplest way possible, but we all know that no developer is going to build those units at the bottom of a recession (and the economy is always cyclical), and nobody 25 years ago would have predicted the level of in-migration and income inequality we have right now- even taking the population boom that started in 1980 into account. Far more units than that have been permitted in each boom and in most cases developers have declined to build them (or deferred them until the next cycle). The fact that they haven't been built has more to do with economics than obstructionism.
I'm not saying that everything in this piece is wrong- it's clearly not – but blaming Progressives for our current situation is misdirected. There need to be regional changes to allow additional housing all over the Bay Area if we are ever going to have a serious impact on affordability. There needs to be a change similar to what is being studied in Seattle to re-think single family zoning, and this can't happen in San Francisco alone.
Comments Off

on Are San Francisco's "famed progressive politics" really to blame for the housing crisis?
May 28, 2014 – 1:55 pm
"Let the voters decide" has a certain immediate appeal. It implies that the will of the people will guide public decisions and create a more just and fair city for all. That's the idea at least. The reality usually ends up looking a lot messier. To say nothing of the huge structural issues direct democracy has caused for the state as a whole (ahem, Proposition 13).
This year, Proposition B purports to make the planning process more fair by letting the public vote on any project that exceeds existing waterfront height limits. Sounds good, right? No more shady backroom deals! Everyone wins, right? Not quite. First, let's look at the existing height limits. One of the most popular buildings on the waterfront (and in San Francisco as a whole) currently exceeds the forty foot height limit that exists along most of the waterfront and would not be allowed under current planning regulations:
But wait, we can bring the Ferry Building into compliance without going to a vote:
Maybe this seems like a frivolous exercise, but it illustrates the reason why height limits are sometimes exceeded- it makes sense. 40' is extremely low in an urban area, and most of the waterfront is not so precious that a few taller buildings would make it such a bad place. People often throw out Miami Beach as indicative of the horrible consequences of changing our current 40' height limits. You know what? Miami Beach's waterfront is in some ways a much more pleasant place to be than a lot of the Embarcadero, with public access and a surprising lack of huge storage buildings full of parking. Or in other cases, the waterfront is literally surface parking. Perhaps you have heard in campaign literature that the San Francisco Giants want to build high rise condos on land zoned for parks? That's not quite the case. The Giants have some of the largest surface parking lots in San Francisco that currently take up prime waterfront land which has current height limit of zero. Meaning, without the height limit being exceeded, that "open space" is going to remain surface parking forever instead of turning into housing and a five and half acre park.
Ah, there's nothing like a little stroll along the waterfront:
Planning at the ballot box doesn't make sense because the typical voter doesn't have the time or background to analyze urban design, land use planning, or the tradeoffs involved in various options. A lot of people walk into the voting booth, read the one line description on the ballot, and vote. The current process for exceeding the height limit on a parcel takes years of meetings (public meetings for anyone interested in attending), approval of the Planning Commission, and approval of the Board of Supervisors. Changing a height limit cannot simply be done with an exception to the planning code: it involves rezoning that piece of land at a taller height, and it is not a simple process.
Our current planning process also has a number of public benefits built in. Developers must comply with affordable housing laws (either through a fee or providing on-site units), fees to pay for infrastructure and they are held to public scrutiny at numerous meetings where public comment is collected.
What is Proposition B proposing? Proposition B would require proposed projects to skip the typical approvals process and instead go to a vote of the people. Why does the City's Planning Department think this is a bad idea? "There is a potential for developers to circumvent required City review and craft subsequent ballot initiatives that combine height increases with other aspects of project approval."
How often to voters read the full text of things they are voting on? Not very often, I can assure you. Developers could hypothetically skip many steps of project approval by spending enough money to get a project approved at the ballot box without having to comply with all of the other rules that have been put in place to ensure a good outcome for the City and the residents of the area.  The Port has $1.5 billion in unfunded infrastructure needs, and by their own economic analysis Prop B could result in $8.4 billion in "delayed, reduced or lost revenues to the Port Harbor Fund." Perhaps the Warriors arena wasn't the best use of Piers 30-32, but nobody else with enough money has stepped up to keep it from falling into the Bay (except for maybe George Lucas).
In more detail:
Depending on the nature of required ballot measures that would evolve from Proposition B, such measures could enable developers to bypass otherwise mandatory environmental review, professional analysis, public response, commission hearings, and legislative review in advance of the election on the project. The layered review and public processes that exist today evolved after decades of vigorous public discourse, planning, and action, some of which is highlighted in our attached letter, resulting in the Port Lands being the most regulated lands in San Francisco. The current review and public process likely would be altered and occur at different chronological periods in the various stages of project approval. (from the San Francisco Planning Department's analysis of Measure B)
We have a very long and time consuming process for building on the waterfront, and we have a few very rich people who don't want anything built because it might block a portion of their precious views, and hey, they already got theirs, so who cares about anyone else? While there has been a pretty valiant effort to paint this ballot measure and last year's ballot measure to block a mid-rise condo building as a rise of progressive voting power in the city, but it's really about progressives getting played by 1%ers who will do anything to preserve the status quo (and their views of the Ferry Building). Richard and Barbara Stewart, wealthy NIMBYs who live downtown near the Embarcadero, have been writing checks to support both waterfront campaigns, spending $143,750 in support of Proposition B to date (versus less than $50,000 spent by Prop B opponents). They spent nearly half a million dollars last year to defeat the 8 Washington condos that would have risen across the street from the high rise condo complex they already live in. If you're interested in looking up campaign finance in general, the San Francisco Ethics Commission has a database that is searchable online. 
Back in the 1980s the San Francisco Bay Guardian (and others) waged a campaign to stop the Manhattanization of San Francisco. Ballot measures were passed that severely limited the amount of office space that could be built downtown (to less than the area in one building the size of the Transbay Tower per year). How did that work out? Great, if you like San Francisco turning into a bedroom community for suburban office parks, and you like the high-rise hotels that were built instead of commercial office buildings:
(San Francisco Mariott image by Flickr user FUMITOL)
There are a lot of unintended consequences of well-intentioned political efforts. The risks of passing Proposition B are too great, and the benefits are far too small (I personally fail to see any benefits to passing it). I've already voted NO and mailed my ballot this morning.
October 17, 2012 – 10:13 pm
The theme of the U.S. Pavilion at the Venice Architecture Biennale this year is "Spontaneous Interventions: Design Actions for the Common Good." Cathy Lang Ho, who helped to select the participants, discusses the criteria and the approach in this article over at the Architect Magazine site. This is hardly the first post about spontaneous or "pop-up" urbanism. In fact, you can hardly get away from it if you read architecture or planning blogs.
We are constantly being told that we have to do more with less and civic improvements need to be quicker, faster and cheaper. The parklet movement has roots in both San Francisco and New York City, places with two of the world's largest and most grand civic parks built with public funds for the benefits of their citizens. Many of the greatest public works projects in U.S. history, like the Hoover Dam and most of the U.S. National Parks System, were constructed during the great depression . Today Apple sits on a pile of money big enough to bail out a European economy while California cuts school bus service and reduces funding for public universities to levels unthinkable a few years ago.
How is the profession fighting back? Architects are responding to the outrageous prioritization of the wealthy over the many by donating their time to the "common good" via vanity projects that allow tech workers to set up their MacBooks on brand new privately-funded outdoor patios in San Francisco's most gentrified neighborhoods. Great.
It's not that there is inherently anything wrong with parklets or pop-up urbanism in a general sense. There are actually some benefits. Let's not kid ourselves, however- this is NOT 'Guerrilla Urbanism.' Perhaps I don't know exactly what this term means, but I know it's not what is depicted in the image above. The Critical Mass bicycle ride comes much closer to Guerrilla Urbanism than designing patio seating for a coffee shop, and even that is a stretch.
Another exhibit in the Biennale comes closer to the true spirit of working for the common good, that is the OMA-curated exhibit titled "Public Works: Architecture by Civil Servants." Exhibiting the work done by mostly anonymous public employees around Europe in the 1970s, the show glorifies work that was done for the good of society by people who would never see their own names on the drawings. OMA shows what it means to actually prioritize the mass public of society via investment in the common good- rather than looking at government as a problem, the 'other,' or something that needs to be tamed, government is part of the solution for a better world.
Architects have very little power (less power than anyone involved except for the architecture critics themselves). It is hard to figure out how to respond to a society that has become increasingly weighted towards those at the top at the expense of the entire idea of 'society.'  Doing things for your local community is a part of the solution. However, donating your services so a for-profit business can have more seating is not on par with helping Habitat for Humanity build houses for the truly needy or fighting to restore funding to your local school system. Pick your battles wisely and take note of whether you are actually making yourself part of the solution.
Comments Off

on This is not Guerilla Urbanism: Architecture of resistance and capitulation
March 8, 2012 – 11:24 pm
I was browsing Apartment Therapy recently and came across one of their 'Before and After' posts titled A Granny Office Goes Modern. The 'before' photo does look like it could be a grandmother's office:
After "a simple organization and renovation techniques you can completely change the style and give a space a fresh and modern makeover." The after  photo has the hallmarks of a fashionable interior makeover: designer furniture, an accent wall, useless empty baskets on shelves, and a mysteriously cord-free computer (this was a big hit in the comments).
Yes, it's fresh. It's modern. But what have we really accomplished here? Every last shred of personality has been stripped from the room. God forbid anyone have to look at family photos, or (even worse) books! While I might not have kept all of Granny's furnishings, there is something wonderful about going into someone's house and learning about him or her through the things on display.
Clutter can get out of hand, but Granny's office was far from being an episode of Hoarders. There is a contemporary trend in interiors to put antique cameras and baskets everywhere, and to find quirky vintage items to "curate" (one of the most grossly misused words I can think of, of late). Why not actually put your own things on display? What's wrong with a few of Granny's framed photos and maybe some books you've actually read instead of empty white storage boxes? One comment summarized it nicely,  "Where did the books go? The shelves are now cluttered with tchotchkes that don't serve any purpose."
Hopefully Granny's stuff was carefully put in boxes and it will slowly filter its way back into the office.
February 11, 2010 – 3:15 pm
In an article for today's London Evening Standard titled Mother's Boy art reviewer Brian Sewell discusses the new show at the Tate Modern, Arshile Gorky: A Retrospective. In a review that reveals far more about Sewell's artistic preferences than the contents of the show, he states that Gorky, who escaped the Aremenian genocide as a young man by fleeing to New York, "was neither well-taught in the technical sense nor exposed to long traditions and established stimuli that could convert him from provincial fumlber into metropolitan genius."
Basically, if you weren't part of the European aristocracy, why bother? Stating that Gorky was "aware of Picasso, presumably from illustrated magazines rather than direct experience" shows the height of Sewell's ignorance, as European modern art was frequently shown in New York during the 1920s and 1930s. The Museum of Modern Art in New York was founded in 1929, and private galleries were regularly showing cubist work during this era. I have a hard time believing a young painter living in the city at that time would not have sought out a single Picasso painting by the mid 1930s.  By 1937 a major show of twenty years worth of his paintings was on view at Jacques Seligman & Co., and in 1939 MoMA mounted a large retrospective of his work.
Sewell also goes to great lengths to criticise Gorky's work as being derivative, going as far as calling his earlier canvases "dim-witted imitations." I think the same could probably be said of the early work of many painters, and for a man his early twenties at the time I don't think it's unreasonable for his work to show the influence of the great painters of the day.
The review condescendingly goes on to say of his experience being promoted to mentor at the Grand Central School of Art "I suspect the school was less grand than its name suggests." The school was an artists' cooporative, and was run out of New York's Grand Central Station for twenty years starting in 1924. Founded by John Singer Sargent (one of the finest portraitists of the early 20th century) and Daniel Chester French (sulptor of the Lincoln Memorial and designer of the Nobel Prize medal), students included as diverse a crowd as Norman Rockwell, Stuart Davis and Willem de Kooning.
Gorky is given credit for his drawings in the review, but it certainly gets under Mr. Sewell's skin that he is regarded as a painter in any way. In fact, he blantently says Gorky did not know what he was doing and credits his fame to the "jabberwocky-driven critic Clement Greenberg." Sewell's antagonism towards Greenberg leads him to dismiss the importance of the influence Gorky had on the art world of the 1940s and 1950s (including de Kooning and Jackson Pollack), which alone in itself makes Gorky's work worthy of a major retrospective.
In his 1964 essay "The Myth of Originality in Contemporary Art"  in the Art Journal, David Hare writes:  "To my mind, Gorky became at the end of his life, far more original than the Abstract-Expressionists that followed him" and then goes on to say "Gorky's was not as original as the work of Jackson Pollack, but much more interestingly so, since Gorky became original in the face of art history, which he loved." This is key to understanding the importance of his work: he successfully negotiated his way out from under the weight of the baggage of pre-war art and created something that was almost unbelievably new. It is unfortunate that it took him a long time to do this, and that he departed from the world at the age of 44.
Arshile Gorky's late work is amazing in the way it dissolves surrealist imagery into beautifully composed non-figurative gesture. I was transfixed by one of his finest works, "The Liver is the Cock's Comb," which I used to stare at on every visit to the Albright-Knox Art Museum in Buffalo where I grew up. I have no doubt you won't regret that you "paid a tenner" (to use Mr. Sewell's phrase) to see the show, I am very much looking forward to it myself.
July 20, 2009 – 11:03 pm
On a recent trip to Montreal, the hotel room my wife and I booked was described as a "loft" and was likewise decorated with the requisite modern furniture and exposed brick walls. An offshoot of a very fine hotel located a few blocks away, our "loft" unit was comfortable and rather tastefully decorated. There were even original oil paintings on the walls, or so we initially thought.
After a few days in the room, something about the "artwork" didn't sit quite right. It was all too homogeneous- the paintings in the bathroom (yes, above the toilet in a bathroom with no fan) and the ones above the bed and the desk all looked a bit too similar. We initially imagined that they had bought artwork from a local artist of limited creativity. My curiosity finally got the best of me, and I took one of the paintings off the wall and saw this:
Upon taking both the paintings in the bathroom off the wall, we discovered that they both held the same model number and were both "Made in China." There was no artist's signature, and they were clearly painted on a larger piece of canvas that was cut up and stretched over various wooden supports to create a number of smaller "artworks."
I should not have been shocked. It's not that I expect hotel rooms to have great art- they usually have some sort of sailboat or flower themed art above the beds that blends into the wallpaper. I think the shock in this particular example comes from the very fact that the hotel went to such great lengths to brand itself as hip, modern, and urban. By putting abstract oil paintings on thick stretcher bars in each room, it conveys the idea that it is some sort of "artist's loft" that we had the good fortune to stay at for the week.
They got the image right, without actually having to spend time or money picking out the artwork. Similar to the "FCUK bodywash, Boconcept sofas, and Nespresso Citiz coffee machines" that Will Wiles mentions in his recent post titled Urbanism Sells, this mass-produced art tells guests that they are not staying at the Holiday Inn- they are having a hip and edgy time in a renovated loft.
When I returned home and started to look for this type of mass-produced art online, I quickly realized it was everywhere. You can easily by a large oil painting to hang over your sofa for $40 from places like Stock Oil Paintings, which is actually Shenzhen Fine Art Co., LTD. On the "about us" page they make no pretense of being a broker for Chinese artists, rather they describe themselves as "a professional manufacturer of oil paintings, sculptures, frames and other art crafts." You can choose by style, color, or artist. Artist, of course, not meaning the person that actually painted it, but rather a knock-off of a famous artist. Want a copy (in oil) of a Modigliani for over your bathtub but you only have $52? You're in luck.
As I scrolled through the various pieces of bargain-basement Chinese factory-made art, I came across an "Andy Warhol" for only $88! The irony of purchasing a copy of a copied painting made by one of Andy Warhol's assistants in his original Factory that has been produced in an actual factory in China would not be lost on Warhol himself, I'm sure.
I really wanted to believe that there would always be a market for local artwork at places like boutique hotels- it seems we are told time and time again that the creative people are the ones who's jobs can't be outsourced-this is the type of theory advanced by Richard Florida in his book "The Rise of the Creative Class" (who's also recently come under fire from the left in Toronto for being an elitist) and by many others who want to imagine we can ship all the unpleasant jobs off to China and keep the creative ones for ourselves.
The sad truth is that artwork, to most people, is something you hang on the wall that doesn't clash with the furniture. The hotel's interior designer saw no reason to buy oil paintings from working artists when a factory in China can crank them out for $40 or less each and they basically become disposable pieces of decor. You don't have to actually be hip, or edgy, or an artist- not when you can buy into the image online for half the price of a week's groceries.
April 15, 2008 – 1:54 am
Okay, I admit I'm posting this a bit late. I have been really busy and we actually had some hot weather for the first time in about a year last weekend, so I haven't been blogging. Last week, Caltrans (the California department of transportation) threw a festive gathering in front of my office to celebrate the new overpass that has been under construction on the other side of the wall at my office for the last year. They call it the "West Approach" because it is the west approach to the San Francisco Bay Bridge. The Governator showed up, but nobody actually saw him. He pulled up in an SUV on the overpass, out of site of the party, and gave a speech the was telecast to people standing on the ground about 200 feet away. Following the speech he drove away. It was completely surreal. Then, they served really awful (free) food including vegetarian baked beans that tasted like wet packing peanuts. Oh, and cupcakes. Sweet, delicious blue and orange cupcakes. Unfortunately the frosting melted instantly in the sun. Special thanks to my friend Angela and her iPhone for the photos.

April 10, 2008 – 2:38 am
As you may be able to see in this blurry photo I borrowed from the CNN website (and they apparently got it from the local KRON4 helicopter) the infamous Olympic Torch struggled to make its way through San Francisco today. While thousands of people on all sides of the China issue were gathered at the baseball stadium and the waterfront downtown (the official route), the Torch was being secretly run through several of the most unsuspecting parts of the city accompanied by the Bay Quackers Bus. What is this bus, you ask? It is a duck-themed amphibious tour bus for tourists. Thank God they upheld the dignity of the Olympics. Wouldn't it have made more sense to cancel the whole thing before it even started?
You can check out my photos from the protests at flickr.
July 9, 2007 – 1:57 am
I was walking home from Dolores Park today and a cardboard box with the words "Estate Sale" scrawled on the side caught my eye. I turned on to a tiny side street and there was another piece of cardboard with a hastily scrawled arrow leading me up a stairway to a dark second floor apartment. I ascended the stair, my eyes barely adjusting to the darkness after spending a few hours outside in the sun.
The apartment looked like it had either been occupied by an elderly packrat or a band of hipsters with an eye for ironic furnishings. Because it was billed as an estate sale, and most of the furnishings had clearly been in this exact apartment since at least 1984, I had to assume that the owner was closer to 80 than 20. The sign at the curb had advertised "lots of art" but the only things I spotted that resembled art were a postcard of puffins in a gold wooden frame and a poster from the 49ers last Super Bowl appearance (in the Joe Montana days).
I walked in to the back room and noticed an abundance of VHS tapes. That is probably an understatement, short of a video store I have never seen this many tapes in one place. Then I turned around and noticed a huge bookshelf full of blank tapes that were still sealed in their original packaging, sorted by brand:
This is where the first bout of bad judgement comes into play. Instead of reaching in my bag and using my 7 megapixel digital camera, I decided to use my piece of crap T mobile camera phone to take this photo. I didn't even have it on the highest resolution (which still looks like a security camera photo blown up 300% and reproduced on newsprint) but instead I had it set to 170 pixels wide. This photo is all I ended up with.
It's a shame that I didn't have my good camera out. I walked into the bedroom next to the kitchen and there was a full size bed in the middle of the room. What, you ask, was for sale in this room? None other than the mattress pad on the bed that the previous tenant probably died on. This mattress pad was selling for a whopping $10.00. There was also a large wedge-shaped pillow for sale on top of it but I didn't see the price tag. To top it off, across from the bed was a television with a sticker on the front that read "$10. Stuck on mute. You fix." I can just imagine the scenario now. The deaf and incontinent resident of the apartment was stuck in bed all day, and the live-in nurse broke the television by permanently sticking it on mute so that he or she didn't have to listen to the "Price is Right" and "Matlock" reruns on full volume from morning until night.
I'm not sure if it was worse judgement to sell a used mattress pad and broken television or if it was a bad call on my part to go to an estate sale advertised via a sharpie and cardboard box. At least I got a photo.